October is the Month of Discovery!
We invite you to engage with a variety of UConn programs at any number of exciting events. October will connect you to the opportunities you seek in enrichment, research, innovation, and creativity at events designed to offer the most impactful and informative experiences.
If you participate in the Month of Discovery, you will find out how you can enhance your college journey in a research opportunity, passion project, classes, at additional events, through a grant, with a professor, and more! Join us to #DiscoverUConn.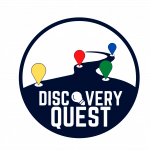 This challenge aims to motivate students to discover all UConn has to offer in the fields of research, innovation, and creativity. After you register as a participant, all you have to do to earn Discovery Points is check in at one of our Signature or Partner Events, submit a picture of yourself at an event, or provide feedback about an event. The more points you have, the better the prize!
Registration runs through the end of Month of Discovery, October 31st. All UConn undergraduate students are welcome to participate!
Signature Events
The first 100 students to attend each signature event receive a Month of Discovery T-shirt!
All Month of Discovery Events